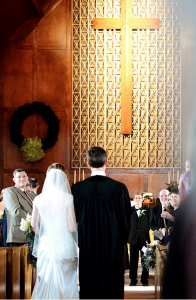 You know how it works at weddings – at the appointed hour, the organist begins the music announcing the procession of the bride. At this point, the mother of the bride usually stands and turns to look back up the aisle, and everyone in the congregation follows suit – that is, everyone except me.
Oh, I stand alright, but instead of looking at the bride, I prefer to watch the groom. I enjoy looking at him, waiting to see the big smile of pleasure that comes across his face when he first gets a glimpse of his beloved. Perhaps you've heard the tagline for the Men's Wearhouse radio commercial: "On her wedding day when everyone is looking at her, she'll be looking at you. So make sure you rent your tux at Men's Wearhouse."
Well, I guess there are really two of us, the bride and me, who are looking at the groom…though it's not actually his tux that we're especially noticing. What an image this is! The Bible of course gives us the wonderful picture of the Church as the bride, being presented to Christ, her Bridegroom.
In Ephesians 5:25-27 Paul says, Husbands, love your wives, as Christ loved the church and gave himself up for her, that he might sanctify her, having cleansed her by the washing of water with the word, so that he might present the church to himself in splendor, without spot or wrinkle or any such thing, that she might be holy and without blemish.
And then in Revelation 21:2, John records a portion of his heavenly vision with these words, And I saw the holy city, new Jerusalem, coming down out of heaven from God, prepared as a bride for her husband.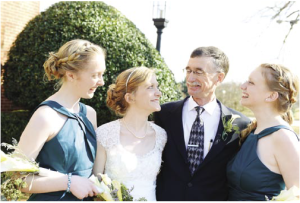 A Father's Role
As the father of three daughters, it has been and continues to be my responsibility (helped by God's grace, of course) to prepare each of my girls for marriage. My way of looking at this question (i.e. Just who may marry my daughter?) is perhaps from a different angle than most people. I believe that my role as her father is not to fend off the bad suitor, but to find the right suitor for my daughter.
To be sure, the young man must come through me if he seeks in marriage the hand of one of "my little girls" – yet, this re-orientation from "fending" to "finding" puts the marriage proposal matter in a positive light. It is my joyful responsibility of helping each of my daughters find the man who is to be her "loving and faithful husband; in plenty and in want; in joy and in sorrow; in sickness and in health; as long as [they] both shall live."
And along the way to finding the man who will love each of my daughters like no other man is able (including me!) – the man with whom she will cleave as one – I've sought to instill in each of my girls the importance of adorning herself. This doesn't mean externally with fancy hairstyles and fine jewelry and frilly dresses, but rather her true adornment. This is to be what Peter calls, the hidden person of the heart with the imperishable beauty of a gentle and quiet spirit, which in God's sight is very precious (1 Peter 3:3,4).
This is what I desire for my girls, that I might present each in her turn as a bride prepared for her bridegroom.
And what a joy it was on Dec. 15, 2012, when I gave the oldest of my "little girls" in marriage and was asked, "Who gives this woman to be married to this man?" And I was happy to respond, "Her mother and I."
Indeed, she is married to a fine young man. And yes, when the doors to the sanctuary swung open, and she and I started down the aisle, I was looking at the groom. And, no, I was not looking at his tux, but at his smile of pleasure in his beloved…and contemplating also the smile of great pleasure that Christ will have on that day when we, His bride, His beloved, are presented to Him for eternity… and all things for all times will be consummated – all to God's glory!