By: Phil Williams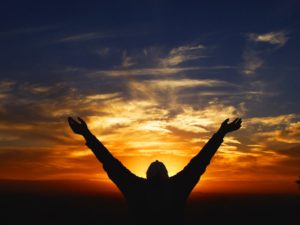 Recently, as I was getting ready to leave Columbia, S.C. for Winston Salem, N.C., I texted my wife to let her know I was leaving for home. I also asked her to text me the scripture memorization verse we were working through from a devotional study plan that most of our church, Covenant of Grace, was using. The text was quickly returned with Psalm 28:7 (I later discovered that Janie had transposed the chapter and verse, and instead of memorizing Psalm 27:8, I memorized Psalm 28:7). In Gods providence, Psalm 28:7 is what He intended for me to have on my heart as I sit down to write this magazine article.
"The LORD is my strength and my shield; in him my heart trusts, and I am helped; my heart exults, and with my song I give thanks to him" (Psalm 28:7).
The definition of "exult" is to show or feel elation or jubilation. Not to be confused with "exalt " which means to hold someone or something in very high regard.
I spent the next hour repeating Psalm 28:7, thinking about all the possible applications and wondering how I could have done things differently in my life. The thought that struck home was that my quest to know God better could have started earlier and with a stronger focus to exult Christ with a song of joyful thanks.   Nevertheless, I am thankful for His providence throughout all my life. Even during the times I have wandered, been preoccupied, or too busy with the "tyranny of the urgency of the moment" to acknowledge Him in my life.
When we stop, think and reflect about where He has taken us, what He has taught us and how He has changed us, we do indeed realize that He is our strength and He is our shield. All of our lives are filled with change, joy, happiness, frustrations, turmoil, hurt and pain. Each of us begins each new year full of hopes, dreams, plans, and a vision for a better future. Our efforts are generally dependent on how our worldview fits with whatever circumstances we face. Yes, we offer our prayers, hopes and dreams up to God, ask his blessing and begin the journey in front of us. As we get into the journey and face the day-to-day toil, struggles, strife, sickness and disappointments, we generally fall back on the premise that just maybe this isn't what God intended me to do. Diligence gives way to doubt; doubt is joined by weariness; and weariness leads to frustration and self-pity. Soon we may begin to think about quitting. Surely God would not place so many obstacles in our paths if this were what we are called to do – Would He?
The answer is absolutely! His word teaches us that He will mold us "But now, O LORD, you are our Father; we are the clay, and you are our potter; we are all the work of your hand" (Isaiah 64:8).
 Some of the encouragements I get from Psalm 28:7 are:
First, no matter what we may face, we must face the task, obstacle or struggle in the "strength of the Lord". Never give up; never quit. When that part of your journey is over He will close the door and open a new one. Few of us will see the door close or recognize the new journey beginning, but we all should know our Sovereign God and trust His Providence that he has His elect right where He intends them to be, with a calling that will nurture them and glorify Jesus Christ.   If you look to Him, seek His face, ask for His wisdom and help with the journey He has called you to; then you will better understand it is not about the accomplishment, but the journey that shapes you. I urge you to read His word, memorize His Word, speak His Word, know His Word and love His Word with all your heart.
"Blessed is the man who trusts in the LORD, whose trust is the LORD.He is like a tree planted by water, that sends out its roots by the stream, and does not fear when heat comes, for its leaves remain green, and is not anxious in the year of drought, for it does not cease to bear fruit" (Jer. 17:7-8).
Second, with His Word in your life you will have a shield about you. 2 Samuel 22:31 reminds us – "This God—his way is perfect; the word of the LORD proves true; he is a shield for all those who take refuge in him." In our weariness " you, O LORD, are a shield about me, my glory, and the lifter of my head" (Psalm 3:3).
Despite the struggles, sicknesses and disappointments we encounter along the way "The LORD is my rock and my fortress and my deliverer, my God, my rock, in whom I take refuge, my shield, and the horn of my salvation, my stronghold" (Psalm 18:2).
Even more important than knowing God's Word let us strive to know Him better, deeper, more intimately. Knowing God is the recognition that He is in every part of our lives, which he is regardless of whether we acknowledge it or not. When we recognize that he is in every part of our lives, we are submitting to His providence and will want His will and seek His face. You have said, "Seek my face". My heart says to you "Your face, LORD", do I seek Psalm 27:8. (Note to Janie: I did memorize both verses. )
Finally, knowing that "we are more than conquerors through him who loved us. For I am sure that neither death nor life, nor angels nor rulers, nor things present nor things to come, nor powers, nor height nor depth, nor anything else in all creation, will be able to separate us from the love of God in Christ Jesus our Lord" (Romans 8:37-39). This reminds us that we trust Jesus with faith, joy, confidence, and hope.
When this article is printed in the ARP Magazine, we will be much closer to Easter. Spring will have begun its renewal, and we will be reminded by the culture around us how they see Easter and Spring. It's a fitting time for us, His church, to let "our heart exult with song and give Him thanks" as we continue forward. Let us all face the remaining months of 2017 with a new song, praising the Lord, singing to the Lord a new song as we diligently serve Jesus with gladness.
In closing, I encourage you to look for a time to step aside from today's fast pace. Go into your prayer closet, where ever that may be and reflect about the journey on which God has for you. Ask Him to help and organize your steps so that your heart exults Him with a new song.
Jesus answered, "The most important is, 'Hear, O Israel, the Lord our God, the Lord is one.  And you shall love the Lord your God with all your heart and with all your soul and with all your mind and with all your strength.' The second is this: 'You shall love your neighbor as yourself.' There is no other commandment greater than these" (Mark 12:29-31).