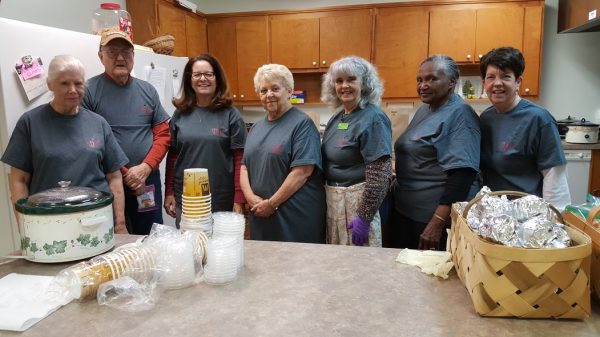 Our Beginnings started with a Concept in 2011.My friend, Jane Statham and I were working full time but wanted to do something as a service ministry with our church, Highlands Presbyterian Church, in Grayson, Georgia. Highlands is a rather small, loving congregation of 150 members. So, Jane and I took baby steps. We tossed around the word soup and working with programs that included mothers and their children and that is as far as we got. So, we both prayed about it. Not knowing how to get started, a deacon in our church said that we should contact the local Food CoOp, the Southeast Gwinnett CoOperative Ministry. The church had been donating food items over there for years, so we gave it a try. We contacted them on a day that the CoOp was supposed to be closed and Laura Drake, the director, picked up the phone! This was definitely a God thing and the seed was planted. Soon after, Laura came to our church to discuss with volunteers what was needed to start this program. The name, Soup Nite, was chosen because at the time, we thought that we would only serve soups but little did we know…. With approval from the church, Soup Nite was launched in September of 2012.
Growing Pains immediately followed us. We started out with a team of about 15 people at the CoOp's location serving crock pot soups for the guests waiting to be interviewed to receive their monthly food boxes. It was very important for us to build relationships. People needed to trust us, not only with a healthy meal, but also with being consistent and having a welcoming attitude. We served outside on the CoOp's picnic tables until it got cold in November. We had always hoped to serve out of the Highlands Fellowship Hall. In December of that same year, we moved serving our meals from the CoOp over to our church. It has a commercial kitchen and the hall seats about 80 people. If guests wanted to sit and eat that would be our capacity, so we started out making enough meals to serve 80 people. We had vouchers and flyers posted and distributed at the CoOp, letting people know where to go, what was being served and when we were serving. The vouchers were brought to us at Highlands with their family name on it and number of meals they needed. The first couple of months our numbers were sparse. Maybe 20 people came to get meals. We got signage to place out in front of church so people know where we are but also to make our neighbors aware of our ministry. We made sure to serve only food that we would serve to our own families.
Using the non-profit status of the church, we partnered with the Atlanta Community Food Bank in May of 2014. It helps with the variety of our menu and it doesn't tax our volunteers financially who prepare meals. As a partner, we now can buy meats at the Food Bank for 16 cents a pound. We scheduled another Monday to Highlands Soup Nite, making it the 2nd and 4th Mondays of each month to meet the requirements of the Food Bank. So many blessings followed, as the CoOp was able to get 2 other community churches to serve hot meals on their premises, the 1st and 3rd Mondays of each month. So now, guests are being served a hot meal at least once a week for free! With so much interest in the ministry, making 8 crock pots was easier in the beginning. This was mostly due some to our volunteers dropping off due to various reasons, but we still had a core team of about 6-8 ladies to prepare meals and 10 people to serve. We started to get more guests coming to us and we saw the greater need. Our biggest challenge was never knowing how many guests we would have on any given Soup Nite Monday and this is still is a challenge today. Jane began a church garden and we can use fresh produce in our meals and sometimes we are able to give out produce to our guests. We also began preparing readymade meals for the seniors at the CoOp's Seasoned With Love project. Seasoned With Love takes food boxes to seniors who are immobile or having trouble getting out of their homes or they have no family to help them. Now, they get 2 prepared meals to heat up in the microwave every time we go out on a route. Jane and I have both retired from our employment and it is now the end of 2015.
Presently, we make enough meals to serve 100-120 people. There have been true "fishes and loaves" stories, where we ran out of food and started defrosting items in the freezer to serve. On some occasions when we serve a recipe that we know is a group favorite, like Chicken Teriyaki, we prepare more and can reach up to 170 meals! We don't serve just soups anymore. Our menu changed due to the partnering with the Atlanta Community Food Bank and having a greater selection of food products to make into meals. Another change is that most of our guests take meals to go. Their families are waiting on them to get home from work or they have school functions to get to or their elderly parents don't want to go out late in the afternoon/evening. In 2018, we served over 3,000 meals at Soup Nite including the Seasoned With Love program, averaging 35-40 households. We have guests that have become very close to us and we look forward to seeing them. We offer prayers, hugs, smiles and encouragement to each of our guests. There are scripture verses on each brown bag that leaves the church. Soup Nite has vendor and merchant support in the Grayson community. The Public Library comes over to reach out with library card sign ups and free books. Grayson Coffee gives out coffee at our Christmas celebrations and McDonalds donates their oatmeal containers to us for our soups. This ministry has reached into other ministries in our own church. On occasion, the youth group helps serve on Soup Nites and our shut ins are delivered meals as part of our Congregational Care group. One of the greatest pleasures in serving began in 2017 when a neighboring church, Faith Community Church, partnered in serving with us. Every Soup Nite they are there to prepare, serve and pray with our guests.
Looking forward, we would like to serve more. In doing this, we are looking into fundraising for a non profit Food Truck. Our truck would be to mainly deliver meals that will be made in our church's kitchen to the Seasoned With Love immobile seniors and to our Soup Nite families who have a need where they cannot get to our regular Monday meals. We also want to reach out to the children. It is our hope to use the truck's counter window like an ice cream truck, to give out that much needed meal that is lost during the summer months when school is not in session. The truck will start conversations and build community. Highlands Soup Nite has a servant's heart and we will continue to build relationships as we serve with the Food Truck. There is always the hope that this example will be implemented in more churches so that there would be a fleet of trucks and greater community serving in the not so distance future. So, we are always praying….