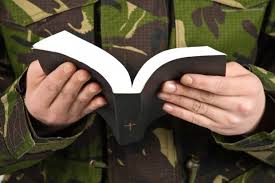 By: Chet Lanious, Chaplain (COL) Ret.
First and foremost is prayer. Whether as individuals or in corporate prayer, the ministry of chaplains survives and thrive on the prayer support of God's people. And, it is important to pray for chaplains while they are in garrison and at home station as well as during deployments or in areas of conflict.
Visit The Presbyterian and Reformed Commission on Chaplains website (http://pcamna.org/chaplain-ministries/) to learn about chaplaincy and its many opportunities. Ask to receive The Guardian newsletter that is filled with chaplain reports and updated information. Most people are familiar with military chaplaincy but hospital, prison, police and industrial chaplaincy are all bearing fruit for the kingdom of God. Understanding chaplain ministry will help you to pray specifically and ask questions and provide affirming ministry to the chaplain and his family.
Learn to provide appropriate ministry support. An example: While deployed to Southeast Asia, we were sent cases of Bibles and New Testaments in Arabic. The intention of the provider was to help us evangelize the local Arab population. That was illegal for us and would have seriously affected the military mission if any attempt had been made to distribute these items. The thought was good but it was inappropriate for us. Another example: At our support base, there was a level three surgical hospital that could handle high-level medical treatment. Often injured soldiers would arrive with the cloths on their back (which were removed and discarded) and following surgery and a hospital stay they had nothing to wear to begin their rehab. I shared the need with some friends and by word of mouth God moved many churches to help meet that need. However, one box arrived that was filled with dirty, old and tattered clothing that I surmised were the contents of a deceased saint's dresser. The thought was good but inappropriate for our needs. And, again: I was contacted by several churches wanting to support my ministry and asked how they could help me. I had a targeted group of leaders that I wanted to give a particular book on prayer. I shared the ministry idea with them but they never followed through or contacted me again.
Provide regular and consistent encouragement. Emails, cards, letters, a book or DVD can be the bright spot in a very dark and difficult time for the chaplain and his ministry. Although I had lots of encouragers at times, my wife and children seldom did. It is the whole family on the mission field and not just the chaplain. This observation highlights the personal connection that is needed and often overlooked. Twenty or thirty drawings done by children in a Sunday School, stuffed in an envelope and mailed without a note may do something for the child who drew the picture but probably will miss the mark for its recipient. During my final deployment, I carried on a correspondence with a third grader who faithfully wrote to me and prayed for me—her Mom frequently included a note sharing her prayers and questions.
Make chaplaincy part of your missions focus and perhaps establish a group dedicated to pray for and provide information about our denomination's chaplains. The military is a distinct sub-culture that needs to be reached for Christ. The denomination does ethnic, cross-cultural and foreign missions—why not include chaplaincy ministry for special emphasis? The military of today is a clear reflection of our culture and society. Many of the stereotypes that linger from the world wars, Korean conflict and Vietnam are untrue today. However, it is a community that is best reached from the inside where mutually supporting tasks achieve the military mission. The chaplain is part of the whole.
None of this is hard but the simple things are hard given our busy contemporary lifestyles. Like everything else we value, it takes a commitment to make time and pursue the information and answers we need.