By Rev. Rob Patrick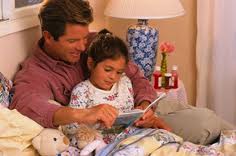 Most parents will go to great lengths to give their children the best possible opportunities for developing their abilities and interests as they grow up. For instance, some families choose homes on the basis of school zoning, with a desire that children get the best education possible. Other parents of children with athletic interests may spend small fortunes in pursuit of participation in youth sports. Countless hours are invested in weekday practices, and time and money are spent on traveling to weekend games and sports tournaments. How many fathers, with great delight, have committed themselves to teach their sons, and even daughters, to enjoy the same hobbies which they have learned from their fathers, such as hunting or fishing?
Training for these kinds of things certainly has value. But I wonder if we might often neglect the most important matters of training for our children, even as we invest ourselves deeply in their pursuit of educational, athletic, and other interests. The Scripture is clear as to the great priority for parents in the training of their children. Deuteronomy 6 sets forth the priority in these words: "Hear, O Israel: The Lord our God, the Lord is one. You shall love the Lord your God with all your heart and with all your soul and with all your might. And these words that I command you today shall be on your heart. You shall teach them diligently to your children, and shall talk of them when you sit in your house, and when you walk by the way, and when you lie down, and when you rise" (Deuteronomy 6:4-7). Loving the Lord, and teaching our children to know and love Him, must be the great priority of every Christian family! This emphasis is found in the New Testament as well as the Old. It is at the heart of Paul's instruction to fathers in Ephesians, "…do not provoke your children to anger, but bring them up in the discipline and instruction of the Lord" (Ephesians 6:4).
Catechetical Training
So, what ought parents do if they would prioritize the spiritual training of their children? Helping with homework and taking children to practices seems common sensical enough as means of helping them make progress in school and sports. But, how do we help them progress in their knowledge and love for the Lord?
Among the best, time tested, and proven methods of training children in the faith is catechetical instruction. Aside from memorizing Scripture itself, it is hard to think of a better method for filling our children's minds and hearts with the truths of Scripture. Indeed, it is a proven means of helping develop facility with biblical truth, language, and reason. It has been suggested that the Scottish peasant in the 18th century was among the best educated of the peoples in Europe. Why? Because of the discipline of catechetical training that typically began in childhood.
What is catechetical training? It is the use of a series of questions and answers that are intended to build knowledge of basic doctrines. As children hear questions, they memorize answers that will remain ingrained in their minds and provide help in understanding Scripture throughout all their lives.
In the Bartow Church, as in many other ARP churches, we recommend that families begin with the First Catechism, produced by Great Commission Publications. Some parents begin teaching this catechism as soon as their children are old enough to speak clearly. The answers to the 150 questions of this catechism, intended as a primer to the Westminster Shorter Catechism, are beautiful both in their depth and brevity. When a child has finished the First Catechism, we encourage parents to press ahead to the 107 questions of the Shorter Catechism.
Parental instruction of children in catechism is important for many reasons. While it might be easy to assign this task to a pastor or church program, the Bible makes clear that spiritual training is first of all the obligation of parents. Additionally, we find that parents often learn a great deal as a result of catechetical training- even as much as their children. As their children are learning, the answers are being ingrained in the minds and hearts of parents too! What is more, the ongoing discipline of catechism training helps shape the life of a family. Families that are built around time in God's word, and training children in biblical truth, are helped to cultivate a culture of family life that is centered on Christ and the promises of Scripture. This is vital for children being raised "in the midst of a crooked and twisted generation" (Philippians 2:15).
Incremental Recognition
In order to encourage children in catechism memorization, the Bartow Church uses a system of incremental recognition and reward. When a child recites (in the presence of a Pastor or Elder of his or her choosing) answers to questions 1-18 of the First Catechism, that child is recognized in our Sunday School Assembly with a personalized New Testament. When children move on to recitation of 1-42, they receive a copy of Little Pilgrim's Progress. At the next increments (1-83, 1-108, 1-125) they receive their choice of any of The Chronicles of Narnia or selected missionary biographies. Finally, at 1-150, they receive an ESV Children's Study Bible. When the incremental recognition is given in our Assembly, children and parents alike are very excited, and seeing the reward seems to spur enthusiasm in other children for continuing with their own catechism memorization.
The increments for the Shorter Catechism are numbers 1-35 and 1-81. At each of these increments students may choose from Foxe's Book of Martyrs, Pilgrim's Progress, Berkhof's Summary of Christian Doctrine, or Matthew Henry's Commentary in one volume. So, all along the way, children and youth are learning the catechism and building their own library of classic Christian works. At the full and final recitation 1-107 of the Shorter Catechism, students receive an ESV Study Bible.
I will be quick to say there is nothing easy about teaching children the catechisms! It takes time, even years, for most children to make a complete recitation. But it is well worth the effort! If parents are willing to spend great amounts of time and money on children's sports, shouldn't they be willing to invest themselves in training the hearts and minds of their children in that which is of utmost importance? If the call of parents, and even grandparents, is to "… tell to the coming generation the glorious deeds of the Lord, and his might, and the wonders that he has done," (Psalm 78:4). then we must commit ourselves to training our children to know and love the Lord!
What are you doing to fulfill this call? How will you go about it? Catechetical instruction is the time-tested way in our tradition of passing on the truth of God to the generations following. Is this more important than youth sports, and even academic progress? Indeed, is knowledge of God and love for Him foundational to honoring Him in these other things? If so, then we would do well to "…ask for the ancient paths, where the good way is; and walk in it..." (Jeremiah 6:16). May new generations continue to learn from those preceding them what it means to love and obey God according to truth! May succeeding generations in the ARP Church grow in their knowledge and love for the Lord, as they embrace the deep truths of Scripture as set forth in the catechisms of our tradition.