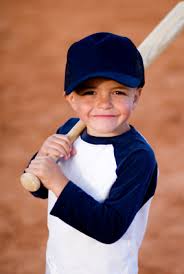 Crack! The familiar sound of a wooden bat – It's a home run! And from one proud Dad in the stands, "That's my boy!"
As the last note fades and the applause builds to a crescendo, the singer takes her modest bow and one proud Dad on the front row says, "That's my girl!"
With water dripping everywhere, the Son of God steps up onto the bank as the crowd draws back.
A dove appears out of nowhere and settles on his shoulder as a voice from heaven exclaims, "This is my beloved Son, with whom I am well pleased" (Matthew 3:17).*
The wave of emotion that sweeps over a parent's heart, the impulse to give out a shout bursting with pride for a child's achievement, are surely reflections of the pleasure that God the Father must have felt when he saw Jesus stepping up to accomplish his mission on earth. God was well pleased! Is that how he feels when he looks down on the human race? Is that how he feels when he sees me? Are we not his children, created in his image (Genesis 1:27)?
Likeness of God
Children reflect the image of their earthly parents. With love and hope they are launched into the world like arrows from a warrior's quiver, (Psalm 127:5). Being made "in the likeness of God," (James 3:9), we are likewise God's image-bearers, sent into the world with the command "to be fruitful and to increase, to fill the earth and to subdue it." Thus the image of God irrepressibly shines through the ability, intellect, and creativity of humans in all our diversity around the world fulfilling the cultural mandate, (Genesis 1:28).
The capacity to accomplish great feats of engineering, the ability to solve great social or political dilem- mas, the motivation and persistence to find cures for diseases, and the sacrifice to pursue rescue operations in the wake of devastating natural disasters, are all reflections of the image of God in humankind. The God of Scripture is a God who creates, ordains, maintains, sustains, loves, cares, heals, and redeems. We are made in his image to do the same things within the scope of our human capacities and limitations.
What is Sin?
Paul calls on the Ephesian Chris- tians to "be imitators of God, as be- loved children…" (Ephesians 5:1). This is not an invitation to play acting or to a clumsy charade where we are enjoined to "act like God." On the contrary, it is a call to fulfill the des- tiny that is ours precisely because we are his image-bearers. We are his be- loved children. Imitating him is what we were created to do just as surely as birds are made to fly and fish are made to swim, but sin has crippled us and rendered us incapable.
What is sin? It is the great obscenity that has broken into the world and robs God of his own glory, attacking and infecting those who bear God's image. Sin enthrones prideful self in the holy place where there ought to be worship and praise for God alone.
God is holy! He is therefore com- pletely justified when he pours out wrath and condemnation upon those who choose their own rebellious way. But God is also full of love and mercy. O how marvelous is the mystery of grace whereby he chooses his own "for adoption as sons through Jesus Christ according to the purpose of his will," (Ephesians 1:5)! In Christ he loves us back to himself, not because we are made in his image but for his own glory, (Ephesians 1:12).
God's Law
The path from Eden to the Cross was long and painful. God's purpose and his will unfolded slowly through the years as he worked through his chosen people. The Law given through Moses reveals to us the char- acter of God. It tells us what he values most: exclusive worship, absolute loyalty, honor to parents, respect for authority, honesty and integrity in all dealings and relationships, and love.
The Law also makes clear the depth to which we have fallen out of conformity to God's character and ul- timately brings us to an understand- ing of our need for Christ. We read in Galatians 3:24 that "the law was our schoolmaster (KJV) to bring us unto Christ, that we might be justified by faith." The Law tutors us in how to behave as image-bearers of our Heavenly Father, but it has no power to accomplish the necessary change of heart required to achieve that end. For that, God had to send us his Son.
Jesus, who bore the "exact im- print" of the nature of God (Hebrews 1:3), fulfilled the Law's demands and modeled for us what it looks like to bear the image of God in human flesh without sin. He is held up for us throughout Scripture as the pro- totype, or first-fruit (I Corinthians 15:23) of what we will become when our redemption is complete. We are told of God's plan in Romans 8:29, a plan conceived before time began and set in motion almost as soon as sin en- tered the world: "For those whom he foreknew he also predestined to be conformed to the image of his Son, in order that He might be the firstborn of many brothers."
Conformity
Conformity to the image of God's Son is a re-formation in us of the Creator's image that sin had defaced but which is now being restored ac- cording to God's sovereign plan. This is accomplished in us not by some carefully designed self improvement plan, but rather by a sovereign and, yes, miraculous transformation that must occur at the core of our being: a heart transplant (Ezekiel 36:26), a new birth (John 3:7), a new creation (II Corinthians 5:17), even a resurrection from spiritual death (Ephesians 2:1,6)!
God is serious about his own im- age. He does not allow us to substi- tute any other as the object of our worship and praise. (Exodus 20:4) He does not allow us to harm, kill or even hate any who bear his image without just cause. (Exodus 20:13, Matthew 5:21-22) He does not hold anyone guiltless who even misuses his name! (Exodus 20:7)
But God also rejoices, even sings over us who bear his image when we turn to him with worship and honor. (Zephaniah 3:17) He is pleased when he sees Jesus in us, when our faces reveal his glory (II Corinthians 3:18), when our lives demonstrate his char- acter (Matthew 26:40), when we love one another with his kind of love (I John 4:10-12).
That's when God smiles and says, "Those are my kids! I'm proud of them!"
And when our elder brother the Son of Man comes in glory he will say, "Come, you who are blessed by my Father, inherit the kingdom pre- pared for you from the foundation of the world," (Matthew 25:34).?
Alex Coblentz is the pastor of French Camp Presbyterian Church in French Camp, Mississippi.