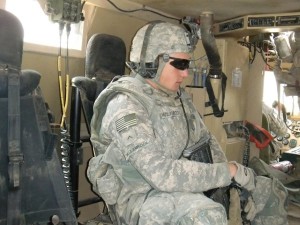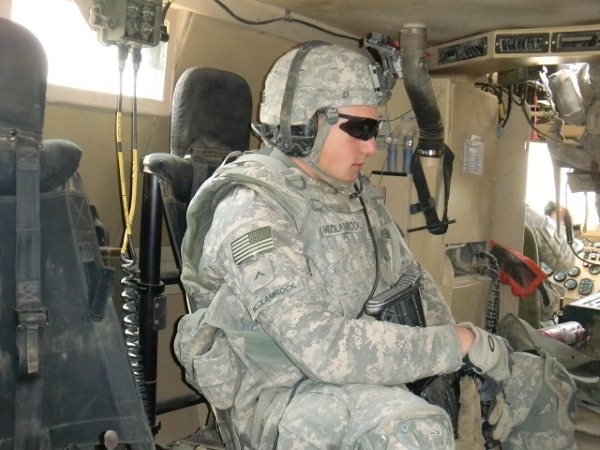 After Mark and I married August 25, 1984, we knew that we wanted children to be a part of our life if the Lord so willed. I remember taking our vows, which included, "in joy and in sorrow."
Our first son, John Mark, was born in December 1986 when we lived in Columbia, SC. Our second son, James Fleet McClamrock, was born the next November into the arms of Dr. Booty Hooker. Dr. Hooker was a member of First ARP Columbia, where Mark and I were employed.
Time would fly and John, James, Kathryn, Barnes, Harrison and Caroline would all be born into the Mc- Clamrock household. We had four car seats at one time in our eight passenger van. I can remember doing head counts to make sure I didn't leave one at home or in the yard while loading up.
Fast forward. James was twenty and married to a beautiful young lady. He worked for TSA, Homeland Security, Charlotte, NC. He an- nounced to us that he had been pray- ing about what to do with his life. He was great with people. He was the up when you were down. He was the ear when you thought no one would listen. He was the clown when the circus wasn't in town. He was every parent's answer to prayer for a son that committed his life to his Savior and wanted to serve him. His choices were to either interview with the FBI or go into the US ARMY. He signed the dotted line with the Army, 11-Bravo or simply known as the infantry. One of his last comments was this: "I feel like the Lord is leading me into the Army. I pray that I will be able to share my faith and at some point use my experience to teach youth groups." As his wife concurred she said, "Who was I to argue that?"
Before James left for boot camp, we went to MEPS (Military Entrance Processing Station) in Charlotte, NC and watched him take an oath to defend this country. We were so proud of him. He graduated boot camp and AIT(Advanced Integral Training). He received his orders for Schofield Barracks, Hawaii. So the day after graduation he was on a plane. Look- ing back, I believe God was starting a "separation" of sorts. We kept in touch every day with the joys of mod- ern technology.
James went to NTC (National Training Center) and excelled. He was a 249 gunner and was the battlefield telephone operator. He would disseminate information to other front lines of battle. James was found to be trustworthy and dependable. He was loyal to the men he served with and obeyed his officers. They said he was cut from cloth that made heroes. I realized that God had given us a hero to raise. God had called him into special service, to reach those he served alongside in this terrible war.
In our hearts and minds we knew that James was who he was because He loved God and knew that God had a purpose and plan for his life. He enjoyed everything about life. He played varsity soccer, tennis and was the "kicker" for the football team his senior year. He played racquet- ball with his dad. His father, ARP minister, James "Mark" McClamrock would deliver the baccalaureate for James' senior year, marry him and bury him. Joys and sorrows often- times go together.
I will share two great stories about James. At about age 13, James was talking to Mark and me with tears regarding the lost. He had the hard- est time accepting that God would judge a man who had no gospel. We argued (as iron sharpens iron) that God has shown who He is through His creation and that no man has an excuse. We used the book of Romans as we talked through these truths be- cause he had so many questions. We also taught him once again that God uses his children to take the gospel to the masses. It is ultimately God's work, but we are to obey in getting the message out.
The second story concerns his baptism. When we as parents pres- ent our children for baptism we are asking God to bring them into the kingdom. When James married, his wife was a member of another church. They wanted to go to a church that had a strong Bible study and ministry program for young married people. When James told the leader- ship that he would like to be a part of their congregation they told him that he would have to be re-baptized. James emphatically said no. He told them that his baptism as a child of the covenant was complete. Needless to say, they did not join that church. They stayed ARPs. Mark and I give thanks that our son understood his infant baptism.
On July 4th, 2010, James landed in Iraq. He would serve faithfully until his death. On September 7th, 2010, our whole world change. We knew he was going on a "mission" but had no idea how dangerous it would prove to be. We prayed and trusted God that he would bring James home safely. Our prayers al- ways asked that God's will be done over our requests. I found out just how vulnerable you are when you ask for God's will. Our hearts broke into pieces that will never completely be whole again. He was KIA (killed in action) when an insurgent shot him at close range and killed his battle buddy Phillip Chad Jenkins. Nine others would be wounded.
The Army officers at our door de- livered the words: "We regret to inform you…" I stopped to think about the ramifications of these words. James was already killed and step- ping into the presence of his Savior. We would never see him again in this world. My Christian belief system quickly went into gear and I was re- membering Scripture that now had become alive to me. My husband was praying with our family and the officers. He actually prayed that the man who killed our son would be able to have salvation revealed to him. We were then told that US Forces took out the killer.
We would receive many cards and letters regarding James death. All were so thoughtful and encouraging, but I needed more. I needed to know what good would come from it – after all we believe what scripture states. Because of James' testimony two soldiers would come to faith in Jesus. Wasn't our son's death worth two conversions? The angels rejoiced over one… shouldn't I?
The chaplain in Iraq told us that when the soldiers went to pack up James' bunk they found his Bible open from his morning devotion. Those two soldiers told the chaplain that they didn't have what "McClamrock" had. He had peace. Mark and I emailed the Chaplain and asked if we could send a Bible to each soldier. He checked with his unit and all wanted a Bible, even those who did not believe in a God. The Chaplain told us that he had never had such a welcomed reception of men wanting to be a part of the Bible distribution. So Mark and I purchased the "Army's Soldiers Bible" and put a sticker inside of each Bible that told them that it was given to them in memory of their fallen bat- tle buddy, PFC James Fleet McClam- rock. We gave them bible verses to help them find salvation. We prayed as each Bible was shipped that God would add his blessing and that seed would be planted and a harvest reaped.
If I said that we are a whole family again I would be lying. We are still working through the cycles of grief. Our family has a special closeness that only we could have obtained through a sorrowful event. Although we had given James to God as an infant I guess we just never thought he would leave us.
I am proud of my husband. Mark has completed his Master's in Professional Counseling and continued to serve as a minister at Concord ARP Church. He ministers to people who have many different losses and on occasion will share of our son's death. We can now relate to parents who have lost their children. Our children continue to work through the loss of their brother. If you've ever seen one McClamrock child, you've seen them all. They all have the same mannerisms and smile.
Will you pray for our family to continue to grow in grace through this most sorrowful of events? Please pray for Mark's service both as a minister and as a counselor, and pray for our children as they contin- ue to mourn the loss of their brother and understand the grace of God. We know James is a part of that "great cloud of witnesses" and one day we will see him again. When he died on the battlefield he had a smile on his face. His battle buddies didn't even realize he had been hit and was gone. We believe that he saw Jesus come and receive him into His arms. Thank you, Lord Jesus, for my son's love for you and his salvation.