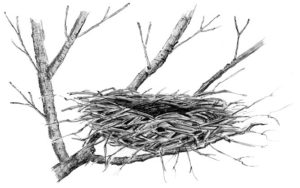 By Lee Shelnutt
He put another parable before them, saying, "The kingdom of heaven is like a grain of mustard seed that a man took and sowed in his field.  It is the smallest of all seeds, but when it has grown it is larger than all the garden plants and becomes a tree, so that the birds of the air come and make nests in its branches."     Matt. 13:31-32
The middle of the sixteenth century was a tough time to be a Protestant in many European countries. From France to Scotland, opposition from Roman Catholic monarchs and forces was lethal. Whether it was Bloody Mary in England and Scotland or Philip the Second with his Spanish forces on the attack against Protestant forces in the Netherlands, many Protestants found themselves in flight, fleeing the dangers of their homelands, looking for a place of refuge, refugees on the move in the Europe of that day.
Where could they turn? Where could they go to find safe haven? Where like weary birds could they build their nests? Find a home? Rear their young? Educate them? Worship God as He commanded? For many that place to make their nest would be in John Calvin's Geneva. John Knox, a refugee who found haven there, called it, "the most perfect school of Christ there ever was on earth." Scottish, English, French, and Dutch refugees found themselves swelling the population of that great city. It is said that the population of Geneva doubled after the infamous St. Bartholomew's Day Massacre in 1572, when some 3,000 people were slaughtered. Calvin's protege and successor, Theodore Beza, said that he saw carts after carts full of bleeding French Protestants arriving at Geneva's gates fleeing from Paris and other French towns and cities. He was so moved and shocked that he couldn't eat for several days. Geneva had become that tree that those wounded birds could come and build their nests in.
Yet, it had not always been so. A scholarly-minded young Jeanne Cauvin (John Calvin), determined to go to Strasbourg to partner with his friend Martin Bucer, and there enjoy the life of an academic. Nevertheless, his circuitous route to avoid war, would take him to the city of Geneva, where he only intended an overnight stay. God intended something much different. There, Calvin was confronted by the fiery and deeply sincere William Farel. Farel implored the young and immensely talented Calvin to remain with him in the new and small reforming work in that great city. Farel was not a man easily told, "no." He pushed. He prodded. He implored and he threatened the timid and reluctant Calvin. Pointing his long finger at the face of Calvin, Farel fired, "If you refuse, God will unquestionably condemn you!" Put that way, Calvin agreed. And from that intended overnight stay, from that one conversation, from that small thing, would eventually come a changed Geneva, a city that would be safe haven for Protestant refugees, and who would bless men like John Knox so greatly. Dear fellow ARPs, we too are in great part still feeling the effects of that small beginning.
The kingdom of heaven is like a grain of mustard seed that a man took and sowed in his field.  It is the smallest of all seeds, but when it has grown it is larger than all the garden plants and becomes a tree, so that the birds of the air come and make nests in its branches.
Dr. Mike Milton gave a stirring exposition of this mustard seed parable at Synod this year. Be richly blessed as you read that message here in the pages of The ARP. As I've read it and as I have thought about the city set on a hill and the kingdom illustration of the mustard seed parable that Geneva was, I have wondered further about what the Lord will do through churches in the communities where He sends us. To hear the testimony of what the Lord is doing through the ministry of Rob and Rachel Turner, former World Witness missionaries to Turkey, and the Arsenal Hill congregation in Columbia, reaching out to present day refugees in their midst with the love of Christ may be a wonderful preview of other mustard seeds becoming trees that the birds of the air will come and make their nest in.
Don't despise the day of small things!