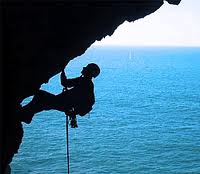 In Chapter 15 of second Chronicles, we have the picture of Judah's king, Asa, and his army returning victorious from their battle with the armies of Cush. God had granted a great victory. But the work of reformation in the land was not complete. You can look back to chapter 14:3 – "He took away the foreign altars and the high places and broke down the pillars and cut down the Asherim" – reformation had begun but there was work yet to do. So in this passage, a prophet from the Lord speaks to Asa and the reformation continues.
Azariah, a prophet who is unknown to us except for this incident, comes and speaks to Asa and to the tribes of Benjamin and Judah. The message he brings is a charge to further faithful action and it is summed up in verse 7 – "But you, take courage! Do not let you hands be weak, for your work shall be rewarded."
Comfort and Caution
 Here we have both a word of comfort and one of caution. In verse 2 the prophet reminds them – "The Lord is with you while you are with him." The king and his armies have just returned from victory – they are confident of God having been on their side – there was no other explanation for the miraculous victory. But so that they don't grow cocky and arrogant and presumptuous, God sends this caution.
Yes, God was with you. Yes, God will continue with you, if you continue with Him!
Israel had known that experience of being judged by God withdrawing Himself from them. You see it in verse 3 – "For a long time Israel was without the true God, and without a teaching priest and without law." Without God, without teaching, without law. When Israel abandoned the worship of the true and living God trouble came upon them. When they took up the idols of the surrounding nations, when they flirted with idolatry, God forsook them, he abandoned them to their so-called gods. Those gods who were powerless to save.
And when God is abandoned by those who name themselves Christian, the churches will be silenced and law will be absent and the pagan nations will be allowed to plague us! And so the call to continue the reformation is pressed home in verse 7- "But you, take courage! Do not let your hands be weak, for your work shall be rewarded."
Our Future
 We as a denomination have been blessed by God and as Moderator, I have been specially blessed to see that this is an exciting time in the life of our denomination. I would invite you to join us at World Focus to be held at Bonclarken on June 11th-13th, to witness for yourself some of these exciting developments in mission, education, and local outreach.
However, even as we rejoice to see that God is blessing in many ways and the work of the Kingdom is going forward, we need to press on. We must faithfully seek to be courageous in being the Church of Jesus Christ. If there is one thing which we can learn from Church history, it is that the work of reformation must always be an ongoing work in the life of our denomination and our congregations. We need to act in faith, in love for Christ, principles and according to our Confessional standards, not simply pursuing a perfect "reformed" theology, but guided by our Reformed theology to be a more and more pure Church of Jesus Christ.
Matthew Henry tells us, "What is done in hypocrisy is a mere drudgery. But, if God has the heart, we have the joy." Our God is a faithful God who rewards those who seek Him with peace in Jesus Christ. Let us pray that God would continue to bless us that we may press on in the work of being the Church of Jesus Christ here in our part of God's vineyard.