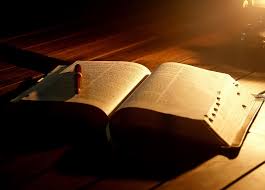 Victory Assured from a Trustworthy Scripture
By: Jeff Kingswood
Next year, the year of our Lord 2017, should the Lord tarry, we will celebrate the 500th anniversary of the Reformation. This movement turned the world upside down as the Word of God was rediscovered and human institutions and traditions were challenged and uprooted by the Holy Spirit empowering in an overwhelming way the preaching of the Church of Jesus Christ.
Time and again in history, God has poured out His Holy Spirit to empower His Church to preach the Word in a way that revived the Church, challenged unbelief, and transformed nations. Surely such a time of repentance, revival, and reformation is needed in the Western world.
In the books of Timothy and Titus the apostle Paul, by the inspiration of God's Holy Spirit, is giving young ministers the authoritative guidance that they need for ministry. And these letters, the Pastoral epistles, are the standard for Godly ministry in the Church of Jesus Christ. Here we have the roles of elders and deacons, the ministries of various other groups within the congregation, and the work of the minister, carefully laid out according to the mind of God. And as you read it you see that central to the task of the Church of Jesus Christ is the ministry of the Word of God.
The Lord, through the apostle, begins to encourage Timothy by reminding him that he is called to declare to the people under his care the truths of the Word of God with which Timothy has been acquainted since infancy. Since he was an infant Timothy sat under the ministry of the Word of God and so it ran through his blood so to speak. Timothy had experienced the life giving power of that Word which alone is able to show us salvation through faith in Christ Jesus.
The reliability, the trustworthiness, the all encompassing authority of the Word of God is spelled out in verses 16 and 17 of 2 Timothy 3: "All scripture is breathed out by God and profitable for teaching, for reproof, for correction, and for training in righteousness, that the man of God may be complete, equipped for every good work." (2 Tim. 3:16,17 ESV)
There are many, many people outside of the church, but even inside it, who doubt that the Word of God is very helpful or true in all of its parts. After all it was written at least 2000 years ago, some parts of it 3500 years ago. Surely those people knew nothing of our culture and our problems. How can such an ancient word have anything to say to us? We respond by saying, "Yes, if this were the work of men you might be right. Things change and no man is wise enough to know what to say to future generations." But to the critics of the Word of God we point out that God Himself is clear in saying that man is not the author of these 66 books. Yes, men penned the words, but the inspiration came from God Himself. God clearly says that His breath moved the writers to record what they did. There are at least twenty references to this inspiration of God recorded throughout the scriptures and the true Church has always believed what God has said concerning His Word. "I breathed it! I inspired it."
All scripture is God inspired. We cannot pick and choose the parts we like and don't like. God gives it to us as a whole and we do not sit in judgement on the Word of God. It judges us. It is all necessary to lead us to salvation and sanctification whether we find it comfortable or not. And when we submit ourselves to the whole counsel of the inspired Word we find the rest of verse 16 coming true as well.
God's Word Teaches
Only God fully knows God. So how can we know God; how can we worship God; how can we know how we are to live? We turn to the Word of God where the infinite God teaches us finite creatures in terms that we may understand. So often people look critically at the Word but when we presume to sit in judgement on God's self-revelation we are like arrogant and stupid children who refuse to learn because they think they know more than their parents. God tells us that He has given us this Word to teach us. To make us wise in the ways of God; His ways.
There is no situation in life in which we may find ourselves that is not somehow addressed by the Word of God. It teaches us who God is, who we are in relation to Him, sinners deserving of condemnation, and how we who are unholy may come to one who is Holy; only by the blood and Spirit of Jesus Christ our Lord.
Reproof & Correct
The Word of God is useful for reproof. It corrects our errors, our arrogant assumptions, our misconceptions. We who are finite have a very limited perspective on who we are and how we are doing in life. The Word of God strips away false thinking, it reproves us; even rebukes us. When we think we are wonderful, God's Word strips away our human pride and shows us that we are sinners, through and through, and that apart from God we can do nothing good or worthy of salvation. When we think we are worthless God's Word shows us that we are objects of the love of God and that God has promised to purify and perfect the lives of His children. We have all sorts of wrong ideas in our heads about ourselves and our neighbours and God. And if we study the Word of God those ideas are reproved. We are put in our place by the Word of God. It strips away our fanciful illusions.
However, the Word does not only reprove, it also corrects. Having shown us our error the Word of God goes on to show us the truth. Our errors can be corrected. In God's Word we may see who God is and who we are and that even though we are sinners and worthy of the fire of hell, God in His love provided an atonement for that sin. That for those whom God loves, Jesus Christ came to earth and died in our place. So we are corrected. Our wrong ideas of salvation reproved by the Word of God are corrected by the beautiful truth of the love of God in Jesus Christ.
God gives us His Word so that we may live a life that is pleasing to Him; that our life might be re-shaped, reformed. When we realize that we are sinful creatures, when our thoughts about life are reproved, God shows us Jesus Christ, the one who died for us, and then the Word of God shows us the life we are to be leading in order to give thanks to God. The Word reproves our error, corrects our thinking, and then trains us in righteousness. And so we are more and more reshaped, or reformed, according to God's pattern for us.
How should someone who has been washed of their sins by Jesus's blood on the cross live? How do we live in a world gone amok? How do we respond to the crisis of life? The Word of God trains us for righteousness. It shows us the way to live a life of thanksgiving that is pleasing to God. God gives us the Word so that we do not perish in sin but also so that we do not flounder despairing in our seeking after righteousness. We will be trained, reshaped, reformed, in God's perfect way rather than our imperfect attempt if we adhere to the training manual.
And verse 17 contains a precious promise to those who are people of the Word. If we are a people of the Word who are taught, reproved, corrected and trained for righteousness than we will be equipped to do all that God asks of us. The good works that God has prepared in advance for us to do, as it says in Ephesians 2:10, will not be too hard for us. We will have been equipped by the Word of God to do them. To please God. Surely that is the goal of every faithful believer whose life has been reformed by Jesus Christ. The Word of God will reform the Church as it revives and reshapes the saints.
Rev. Jeff Kingswood is the pastor of Grace Presbyterian Church in Woodstock, ON. He is the former moderator of Synod.