By: Brian Garner, Landmark News Service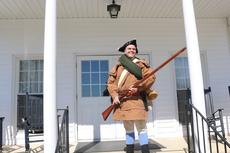 You can image the pastor of the precursor to Union ARP Church in Richburg standing on the church steps, issuing a call to his neighbors. Along with two companies of Revolutionary War re-enactors, the members of the public were able to answer that call. Union ARP Pastor Watson Gunderson is the organizer of the inaugural Muster at the Meeting House, a combination living history demonstration and church homecoming.
Dressed in full militia garb from his tricorn hat to the buckled shoes and clutching the stock of a flintlock rifle, Gunderson talked about the church's history recently. "The roots of Union ARP date back as early as the 1760s," said Gunderson, who has been pastor for two years.
By 1780, when Charlestown fell and General Cornwallis was marching up what is today the I-77 corridor, militias began to muster or gather at local meeting houses. Rocky Creek Meeting House, part of the Reformed Presbyterian Church, ultimately became Union ARP when the Associate and the Reformed Presbyterian Churches merged in 1782. In 1787, Rocky Creek became an ARP Church and was renamed Union ARP in 1795. It served as a mustering place for the militia during the Revolutionary War, Gunderson said.
That independent, Revolutionary spirit is what the re-enactors (or living historians if you prefer) who gather for this particular muster will portray. In addition to the encampment, there was period cooking, militia drills, a musket-firing demonstration, a children's drill session (with wooden muskets) and 18th century children's games.
The Union ARP celebrated their history by holding a homecoming service, Sunday school and a homecoming potluck supper, Gunderson said. The Boy Scouts that meet at Union ARP sold hot dog plates (which aren't exactly period, but are delicious) and the Girl Scouts held a bake sale.