By Joyce Guyette
Elinor Townsend Griffin of Green- ville, SC, daughter of Rev. David and Sharon Griffin, was among the five finalists selected to receive awards at Erskine College – following the Presidential Scholarship Competition March 2-3. She won the Wylie Scholarship, a $20,000 award renewable for a total of four years of study.
Elinor, who is home-schooled, cited travel with her family, one-on-one lessons with her mom, and meeting people from a variety of backgrounds as advantages of her homeschool experience. She said such opportunities have helped to develop "a gift of love and compassion for people of all types and ages" that God has given her.
She is most thankful "that I have been taught the importance of a worldview that is founded on the Word of God and I have been equipped with the tools to use that worldview in my schoolwork and in all the aspects of my life."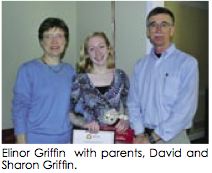 Elinor is the last of the Griffins' three daughters to attend Erskine. "She will be following in the footsteps and shadow of an older sister, as Kelley did before her. This can be a bit daunting, yet, as with Kelley and Laura, Elinor will also make her unique imprint on the Erskine landscape," David Griffin said.
"As parents and alumni, Sharon and I are encouraged by the changes that are occurring on campus and confident that, by God's grace, Elinor will have her own part in what the Lord will continue doing at Erskine College. And we look forward also to what He will do in her through her experiences at Erskine."
Elinor is eager to "use those lessons I've learned in my life at Erskine – to learn and grow academically, become a part of the Erskine community that I have loved for a long time, all with the ultimate goal of bringing glory to Christ Jesus!"
When told about Elinor's award, Sharon Griffin said, "I felt a bit overwhelmed and very grateful to the Lord and Erskine for this gift." The admissions staff planned a surprise presentation at the Griffins' home, so the news was kept a secret from their daughter.
"That morning, David and I both tried to make some subtle suggestions to Elinor that seemed very strange to her – all in hopes she would be a little better dressed for the surprise visitors," she recalled. "And to be sure, it was a great surprise for Elinor when she left her French lesson to answer the front door, and there they stood with balloons and the award certificate!"