By Delores McDonald
During registration prior to the 208th meeting of General Synod, the magazine staff had the opportunity to share space with Synod agencies and other organizations in the Mike and Lib Patrick Conference Room in The Lodge at
Bonclarken Conference Center – where Synod delegates signed in.
As Rev. Meredith Cavin stood at the French Camp Academy display table, he and FCA Public Relations Director Lance Ragsdale discussed the special relationship that Cavin's church has formed with French Camp Presbyterian Church and the neighboring academy. When the Brighton (TN) ARP Church was searching for a short term
mission to serve four years ago, they had to look no further than the ARP Magazine.
As Cavin read the feature about French Camp, MS, and neighboring French Camp Academy, he realized his church could help with needed repair and cleanup work at the church and the Christian school. Since then, a group from the church has been making the three hour drive annually to help any way they can.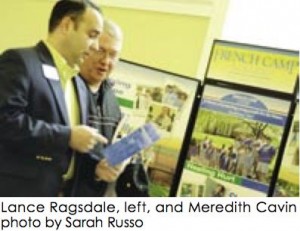 "We fit a niche," Cavin said. "It's amazing what we accomplish in 41⁄2 days. Cavin says they do everything from plumbing work, painting, clearing debris, and even power washing French Camp Church. As a result of the mission trip, Cavin says they have made good friends at French Camp and look forward to returning each year. "We love helping a fellow church," he said. "And I encourage churches to reach out to other ARP churches who might need a helping hand."
French Camp Presbyterian Pastor Alex Coblentz says Lakeside Fellowship in Mooresville NC, has also sent a mission team and they in return have been blessed by the churches who come to help them. For more information on short term ministry at French Camp, email: alexcoblentz@gmail.com or call 662-547-6670.