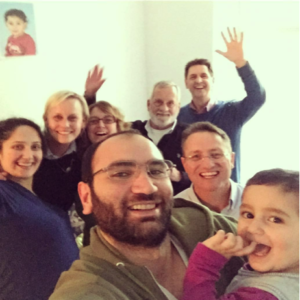 Several years ago my wife, Janie, and I took our 14-year-old granddaughter, Logan, to the Cinema to see "Chronicles of Narnia" from CS Lewis' book The Lion, The Witch and The Wardrobe. The first time I read CS Lewis I was 23 years old, not redeemed and was not particularly impacted by what I read. Years later, at 35, I picked up a copy of Lewis' Chronicles of Narnia and began reading The Lion, The Witch and The Wardrobe again. This time around, it was very impactful. I visualized a dead, cold world without Christ as it related to my life, both before and after Christ performed heart replacement surgery. (For those of you that have noticed this is the second time I've referenced this specific book, movie and song, all three use excellent allegories and reveal strong, spiritual meaning for me.)
As Janie, Logan and I sat in the cinema, one song in the music score struck home – It was "Winter Light" by the recording artist Tim Finn. The lyrics uniquely captured my thoughts and brought relevant understanding of my transition from life without Christ into a fullness of life with Christ. "It's always in the back of your mind; When everything is dark, still something shines."
Surveying the Mission Field
I mention this specific incident that happened many years ago because I recently visited several of our missionaries in Berlin, Germany; Warsaw, Poland; and Vilnius, Lithuania. The work that our missionary teams in these countries have undertaken is huge and so needed to shine in a dim and darkening world. During my visit to these three countries, I noticed that there were many churches across the cities and landscape. Every hour I could hear the church bells pealing on the hour and half hour. Sadly, I learned that these church buildings were not churches full of worshippers but were either empty or nearly empty.
During my visit, I went to church with our missionaries. I ate dinner in the homes with their refugee families (in Germany with a Syrian family) and their church support families (Poland). I walked the church grounds and empty buildings with pastors in training (Lithuania). The repeated request from everyone was to have the Scripture, the Standards, and theological truths written in their languages and have it taught and preached with truth. My appreciation and admiration for these families who started this missionary work is beyond my ability to express. The needs are many, and the field is ripe for harvest. We need workers world-wide to preach and teach the Word. We need prayer support to lift up our missionary families all over the mission field. Over years of travel and working away from home, I understand the feeling of being away from home and cut off from family and friends. A simple card or note reminding our missionary families they are not forgotten would go a long way. It is very difficult for these servants to leave their homes and comfort zones as they minister to those crying out for the truth of God's word.
The Ripe Fields
Truly Matthew 19:23-30 is a fitting reminder of the emphasis Jesus placed on following his calling to reach the lost. "And Jesus said to his disciples, 'Truly, I say to you, only with difficulty will a rich person enter the kingdom of heaven. Again I tell you, it is easier for a camel to go through the eye of a needle than for a rich person to enter the kingdom of God.' When the disciples heard this, they were greatly astonished, saying, 'Who then can be saved?' But Jesus looked at them and said, 'With man this is impossible, but with God all things are possible.' Then Peter said in reply, 'See, we have left everything and followed you. What then will we have?' Jesus said to them, 'Truly, I say to you, in the new world, when the Son of Man will sit on his glorious throne, you who have followed me will also sit on twelve thrones, judging the twelve tribes of Israel. And everyone who has left houses or brothers or sisters or father or mother or children or lands, for my name's sake, will receive a hundredfold and will inherit eternal life. But many who are first will be last, and the last first.'"
We can help our missionaries through prayers, support and commitment to take the Word to a place where a hunger for God's Word is so prevalent. Also, please pray for protection and blessings on our missionary families. There is opposition that should not be there. Ask God to intercede for their success and safety. Many thanks to Heiko and Kay Burklin for their time and help during my visits with Suzanne and Jeff Allers and Rebekah Carson in Germany; Dariusz and Brooke Brycko in Poland; Frank and Emily van Dalen in Lithuania; and to Reverend William Southerland, my traveling partner.
At the beginning of this article, I referenced the Tim Finn song "Winter Light" from the movie Chronicles of Narnia. If your curiosity has gotten the best of you and you have listened to the lyrics once or twice, you will understand why this trip brought the song to mind. I visited the very country where our Reformed position on the Scriptures began some 499 years ago. I stood in the oldest Presbyterian Reformed church in Kedainiai, Lithuania (1585-1640), pictured below. As I stated above, the lyrics uniquely captured my thoughts and brought relevant understanding of my transition from life without Christ into a fullness of life with Christ. The isolated places I visited were a few of the niches in this part of Europe where the Word is springing forth.
The photo on page 4 is a Berlin Church service conducted by a pastor who was one of the very first converts through the early ministry efforts of Jeff and Suzanne Allers. The picture below is a Syrian (Christian) refugee family, living in Germany after fleeing for their lives. Living in poverty didn't hinder Refaat and Louris from inviting us into their little apartment to serve us a feast at the noon meal. The picture (top right) is Dariusz and Brooke Brycko who are in Warsaw beginning the process of training, educating and translating Scriptures, the Standards and theological books into the Polish language. The next picture is of the restored pulpit inside the Kedainiai Reformed Evangelical Church where Rev. Frank van Dalen took us as we visited churches in Vilnius Kaunas and Kedainiai, Lithuania. I hope and pray these pictures will give you a feel for the tremendous work and tremendous need to always be Reformed and to be reforming ourselves and the world to the truth of God's Word.
In all the countries where we have missionary efforts, our Christian brothers, sisters, fathers, and mothers need, want, and pray desperately for the Word. As stated at Synod during the Moderator's Challenge, I have prayed and continue to pray that God will refresh our love for Him and call us all to obey the Greatest Commandment.
The Love of God
Jesus answered, "The most important is, 'Hear, O Israel: The Lord our God, the Lord is one. And you shall love the Lord your God with all your heart and with all your soul and with all your mind and with all your strength.' The second is this: 'You shall love your neighbor as yourself.' There is no other commandment greater than these" (Mark 12:29-31).
As I stated in the 212th Synod's Moderator's Challenge, we cannot begin to understand the "how" in loving God with all our heart, soul, mind, and strength without much individual prayer, even fasting. To love your neighbor as yourself is impossible until you die to self. Then with a new heart, we see our neighbor with the compassion of Christ. He becomes more important than our agendas, comforts and goals. You know you belong to Christ when you are making certain that the person in front of you knows Jesus. This takes priority over your own life's momentary objectives. James reminds us that we are to be "doers of the Word and not hearers only, deceiving yourselves. For if anyone is a hearer of the word and not a doer, he is like a man who looks intently at his natural face in a mirror. For he looks at himself and goes away and at once forgets what he was like. But the one who looks into the perfect law, the law of liberty, and perseveres, being no hearer who forgets but a doer who acts, he will be blessed in his doing" (James 1:22-25).
To borrow a quote I recently heard from Rosaria Butterfield, "Our job as image bearers is to put the hand of the Savior into the hand of the struggling." I urge you to ask for new mercies each day and new opportunities to serve, witness, exhort and proclaim Christ to someone. Are we not called, taught, equipped, prepared and trained for such a time as this? Do we love our neighbor, as the greatest commandment requires? Pastors, lead your people. Churches, own your town, city, state and the whole earth to the glory of our great God!?
(Please remember our Missionaries. Send them notes and cards letting them know you have not forgotten them. For a complete list of addresses contact Sheila Osborne, sheilao@me.com.– Phil Williams)