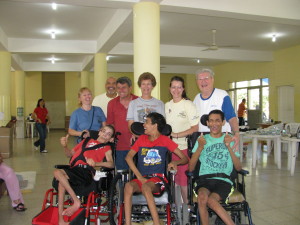 Wheels for the World (WFTW) is one of the ministries of Joni and Friends. My involvement for the last 12 years includes the collection of wheelchairs in the upstate of South Carolina and western North Carolina as well as the distribution of the wheelchairs in the Dominican Republic and Haiti.
The Ministry includes the Chair Corps team that is a nationwide network of volunteers that collect used, but restorable, wheelchairs. The wheelchairs are transported to restoration shops located in our nation's correctional facilities, where inmates restore them to their original usefulness. Finally, the wheelchairs are shipped to distribution sites worldwide. There, outreach teams make sure each recipient is carefully fitted to a wheelchair that meets their individual needs.
The Joni and Friends Wheels for the World program is changing lives … one wheelchair at a time. There are 4 major steps that make the WFTW program work.
Donated Chairs
The volunteer organization, called Chair Corps, collects used wheelchairs, walkers, crutches and canes.
Transportation
Donated wheelchairs and other mobility equipment are transported from local collection sites to the restoration shops in correctional facilities. Once they've been restored, they are transported again, from the restoration shops to the ports of departure.
Restoration
Wheels for the World currently restores wheelchairs at 15 correctional facilities, located in 12 different states. These prisons include federal, state, and private institutions. Inmates are trained to restore wheelchairs to like-new condition. The inmates learn teamwork and the mechanical skills required to produce a product that makes a difference in someone's life. Hardened inmates have been moved to tears when they see the photo of a little boy or girl receiving a wheelchair they helped provide.
Distribution
After wheelchairs have been restored to like-new condition, they are shipped to countries like Dominican Republic, Haiti, China, Cuba, Romania, Ghana, Thailand, and India.
At the distribution sites in these countries, the volunteer teams of disability specialists fit each wheelchair to the recipient and provide training in its use and upkeep. Recipients also receive a Bible in their language and the message of God's love.
Ron McKnight is a member of Pinecrest Presbyterian Church in Flat Rock, NC.