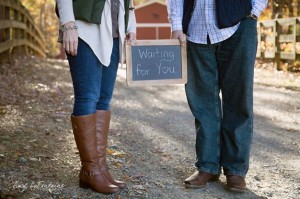 By Rev. Calvin Draffin
 But when the fullness of time had come, God sent forth his Son, born of woman, born under the law, to redeem those who were under the law, so that we might receive adoption as sons.  (Galatians 4:4-5)
The phone rang in the early evening hours, it was a Monday. A part of the conversation went something like this, "You can pick up your little girl on Thursday!" WOW!!! We had been praying for this day and it was now here!
Libby and I had been working towards adoption for several years. We attended a seminar where we learned many basic facts. We tried an agency in another state, but this ran into a dead end. We contacted local doctors who might know of a situation where a child would need to be placed for adoption, but this too did not work out. But then Bethany Christian services opened an office in Mississippi and we made application.
Soon after we began with Bethany we moved to South Carolina when I became Pastor of Clover ARP. Bethany graciously transferred our information and so we worked through the South Carolina offices. It was May of 1986 when we received that phone call. A similar call came in October of 1988 when we adopted our second daughter through Bethany.
Challenges
The process of adopting was a challenge. There were interviews and in-home visits. There was a large set of questions to be answered individually about our marriage, family life, experiences with children and financial stability. Once the process was over, we both thought that it would be beneficial for every couple wanting to have children to go through that process.
Bethany educated us about their work. They taught us about the birth mothers and the challenges they face. They showed us that as the prospective parents you think of yourselves as consumers where you do your shopping until you find what you want and say, "I'll take this one." Yet this is not how it works. The child is most important, what is best for him/her; then the birth-mother, is she receiving the counseling, advice and support that she needs as she makes this most difficult decision and finally the adoptive parents. This is how it should be. They also spoke highly of how the whole process is in the hands of our Sovereign God.
Adopted By God
As I consider the many parallels between how we adopted our children and how God has adopted us, I do want to note one difference. Placing a child for adoption is a heart rending decision and one that is done out of much love. Adopted children are not unwanted children but there are times when the birth parents know they cannot give the child the kind of care they need and selflessly place the child for adoption.
Yet there are many parallels. First, consider the great lengths that God the Father took in order to adopt us as His children. At just the right time God sent His Son. Jesus was born of a woman so He was both fully God and fully man. Then being tempted in all points like we are, He did not sin. Then in great love He became the perfect sacrifice for sin and died there upon the cross for our sakes. Yet the grave could not hold Him for He rose from the grave proving that sin and death were defeated.
Consider too the fact that God was concerned about what is best for the child. This is why He sent His Son so that through Him our sins are blotted out and we are made new. Being cleansed from sin we are now able to live with our Holy God.
The term used for adoption during that time refers to the practice of a wealthy man who had no children taking into his family a slave youth and make him his own. We were born slaves to sin and God in His mercy takes and makes us a part of His family. It is solely by His grace that we become His children.
Once the Father has committed Himself to us, He does not let us go. Once the judge makes the final decree, the adoption is final. The child receives a new name, the name of the adopting father. What a wonderful exchange for all of us born in sin, the old name is taken away and we now are known as sons and daughters of God.
Rev. Calvin Draffin is the pastor of Due West ARP Church, Due West, SC.