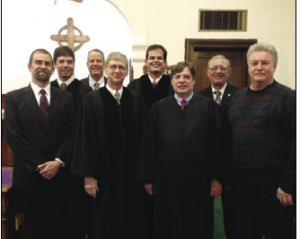 The Commission from Second Presbytery ordained and installed Mackay Smith as the new associate pastor of the White Oak ARP Church of Senoia, GA, on Palm Sunday, March 24, 2013.
"The evening worship service, with over 160 people attending, was said by some to be solemn, respectful, meaningful and beautiful," said White Oak Senior Pastor Tom Shoger. "It was a wonderful time of worship for a very special event in both Mackay's and the church's life."
Mackay Smith's parents, David and Tracey Smith, and his grandmother Betsy Smith were present. His father, a ruling elder at First ARP Gastonia (NC), actively participated in the service with the commission. Rev. Smith will soon have a helpmate in ministry; he and Rachel Hunt of the Lake Wales ARP Church will be married on May 4.
White Oak Women's Ministry coordinated a reception after the service.